If you're planning a trip to Bayfield, WI, this winter, a unique and exciting opportunity awaits! During Wisconsin's colder months, the shimmering surface of Lake Superior presents the Madeline Island Ice Road. Once the lake freezes over, a stretch of ice allows visitors to walk, skate, or slide all the way from Bayfield to Madeline Island! The ice road is truly unlike anything you've ever seen and something that you do not want to miss out on this year. While you're in the area, you don't need to dig through the snow to find the rest of Bayfield's best things to do. Our complimentary Vacation Guide is full of the area's best restaurants, attractions, and events!
Everything You Need to Know About the Madeline Island Ice Road
What Is the Madeline Island Ice Road?
The Madeline Island Ice Road refers to the frozen body of water where the Madeline Island Ferry travels between Bayfield and Madeline Island. During the winter, this path completely freezes over and turns into a glistening stretch of ice. People from all over come to the area to drive, walk, skate, or ski the two-mile distance to Madeline Island!
When Is the Madeline Ice Road Open?
The Madeline Island Ice Road is not always safe to traverse and opens only when it has reached the ability to hold a sufficient amount of weight. The status of the ice road is checked frequently by the Bayfield Chamber of Commerce, so stay up-to-date with their Winter Recreation Report! If they give you the green light, grab your friends and your cold-weather gear, Madeline Island is waiting for you!
What Are Some Other Activities to Enjoy in Bayfield in the Winter?
Opportunities for winter fun in Bayfield, WI, are endless! Exploring the Apostle Islands ice caves is an adventure like no other. For those of you who are thrill seekers, there is also dog sledding, skiing, or snowboarding.
There are also numerous seasonal festivals to attend as well! The Bayfield Winter Festival is one of the most highly-anticipated events of the year. Winter is one of Bayfield's most beautiful and exciting times of the year. Start planning your trip today and experience it for yourself!
Where to Stay in Bayfield, WI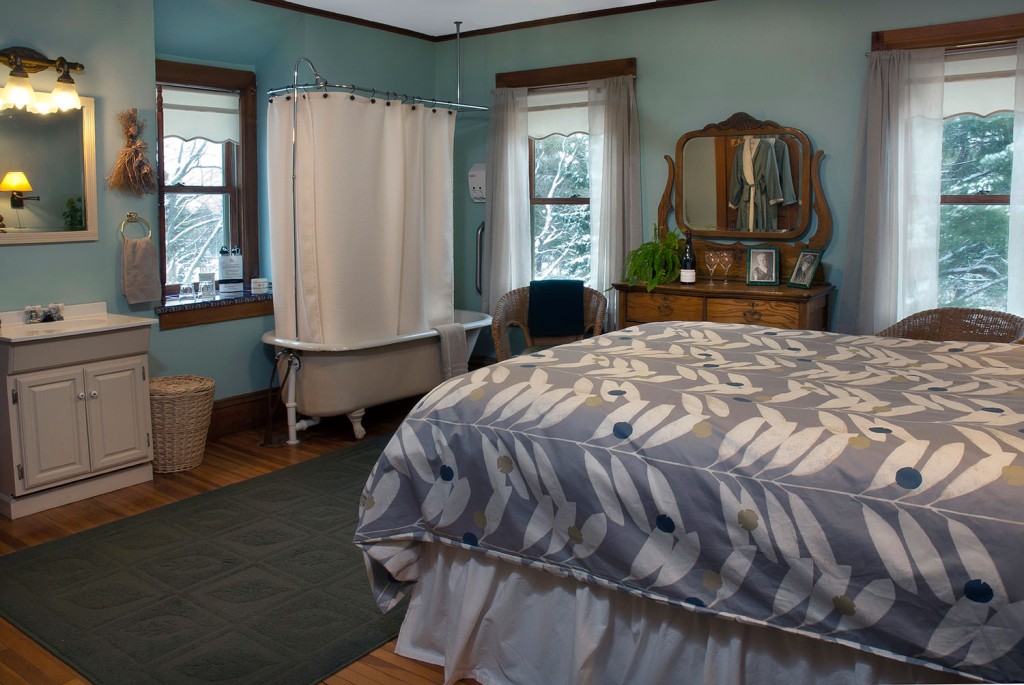 After you've had your fill of adventure, escape the cold and embrace the warmth and comfort of the Pinehurst Inn. Our luxurious bed and breakfast boasts elegant accommodations, first-rate amenities, and a delicious complimentary breakfast. For a lodging experience that rivals the beauty and charm of Bayfield, you won't have to look farther than the Pinehurst Inn.
For example, our R.D. Pike Room is an artfully decorated guest suite that features a queen-size bed, a whirlpool bathtub, and lovely views of our flower garden. It's time to experience Bayfield the way that it was meant to be experienced. There's never a bad time to plan the perfect winter getaway!