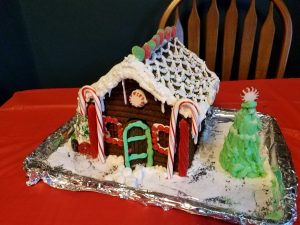 We continue to strive to make our bed and breakfast a place where you can relax, unwind, and maybe have a little fun, so on December 1, 2018, we will be hosting our First Annual Gingerbread House Decorating Event. Bring your building skills and creative genius to construct and decorate your own gingerbread house. We will be baking up the gingerbread houses and supplying the icing (aka glue) and an assortment of treats for decorations. This package requires at least a 2-night stay with us, including December 1, 2018, and includes:
The pieces for ONE gingerbread house and platform for building

Icing and treats for decorations

Hordeorvers and Christmas cookies (for up to 2 people)

Hot chocolate and other non-alcoholic beverages (feel free to bring your own adult beverages)

And of course, a hearty 3-course breakfast each morning that already is included with your stay
Cost is $40, plus the cost of your room. A second gingerbread house may be purchased for an additional $10.
The festivities will take place in the Main House breakfast room (and dining room if additional space is needed) beginning at 6:00 p.m. Make your reservation today by either going online at our website www.pinehurstinn.com or calling us at 715-779-3676.