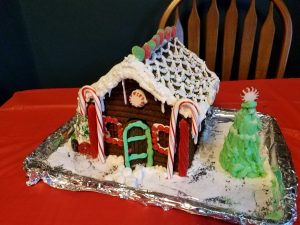 We continue to strive to make our inn a place where you can relax, unwind, and maybe have a little fun. For the holiday season, Becky is baking up some gingerbread houses that are in need of some creative genius (aka "expressive decorating").
So from now until the end of the year, with any 2 or more night stay, we will provide you with one free "Gingerbread House Package," that is if you are up to the challenge!
The package includes the gingerbread house pieces, the icing (aka "glue") and an assortment of treats for decorating. Just select the "Free Gingerbread House Package" when reserving your 2 or more night stay and in the "notes" section of the reservation form, let us know when you would like to decorate the gingerbread house so we can have everything ready for you. For each additional Gingerbread House Package, the cost is $25 plus tax, so if you would like to decorate more than one gingerbread house, include the number of "Additional Gingerbread House Packages" you would like when making your reservation. Please allow 72 hours notice for each gingerbread house package. If it is less than that, give us a call and we will see what we can do. Happy Building!