Meet the Innkeepers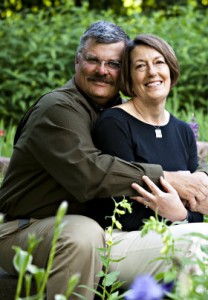 Steve & Nancy Sandstrom purchased Pinehurst Inn in January, 1996. The purchase of this particular property was particularly meaningful to both of them. Steve's family has multi-generational history in the region with his father's side of the family being from Ashland, WI. Cousins on Nancy's side of the family had owned Pinehurst from 1904-1984. Both Steve and Nancy have extensive childhood memories of spending time in Bayfield, on Madeline Island and among the Apostle Islands. Clearly, this purchase was driven by a clear desire to reconnect with the Bayfield area and family histories.
Steve is a teacher at heart. His background includes teaching biology and environmental science at the high school level and working for the Wisconsin Department of Public Instruction. For a period of time, he took a departure from education to partner with his brothers and sisters at HM Graphics, a family owned printing company in Milwaukee. Since then he has also taught at Northland College while also completing his Masters degree in Sustainable Community Development.
Steve is now taking his love of education to a new place as he and Nancy establish Sustainably Speaking, a consulting service that offers assistance to businesses and communities as they seek to establish strategies for sustainable operations.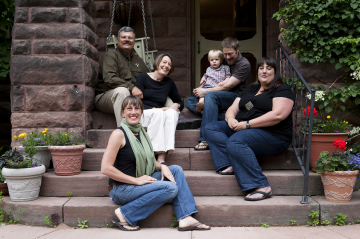 Nancy spent every summer of her life in Bayfield or on Madeline Island. Prior to the move to Bayfield in 1996, she worked in non-profit and management. She brings this experience into her management of Pinehurst Inn as she works to establish an efficient and smooth operation that appears seamless to the guests. Nancy has a tenacious commitment to marketing Pinehurst Inn as well as marketing Bayfield and the Apostle Islands. She has served on numerous boards in the area.
Nancy and Steve strive to ensure that Pinehurst Inn is operated in a manner that has the least negative impact on the environment. They have created an extensive Sustainable Operations Plan that provides a framework for now and the future. This plan outlines the numerous steps they have taken to lessen the footprint of the property while also helping to define future steps and initiatives.
It is with a sense of pride and appreciation that Nancy & Steve share Pinehurst Inn with their guests. It is their hope that each guest leaves Pinehurst Inn having connected adventure, environment & personal rejuvenation.