As we look out our windows from Pinehurst Inn Bed & Breakfast, the glorious sun today is making the fall leaves more intense and brilliant. This is definitely my favorite time of year up here. Some brief comments on Bayfield and the Apostle Islands in the fall…
Lake Superior becomes a glittering jewel in the fall. The deep blue water contrasting the colorful shoreline is amazing.
Sailing in the fall can be amazing as we typically have more wind in the fall. (Check out our Dreamcatcher for various sailing trips being offered).
Hiking opportunities abound. We will gladly provide some wonderful options for your hiking pleasure.
The Bayfield Orchards are still going full steam – this year's apple crop has been outstanding with a huge variety of apples still available. Combine the orchard tour with a great bike ride. Check out the Bayfield Orchards Weekly update.
Stores are eager to continue to see visitors in a more relaxed atmosphere.
Madeline Island awaits you. The Madeline Island Ferry continues at a slightly reduced schedule, but still frequent enough to make a visit to the island work.
Just a few ideas for you to consider. While checking out all that fall brings to Bayfield, WI, book a stay at Pinehurst Inn Bed & Breakfast, one of the top rated bed and breakfasts in Bayfield.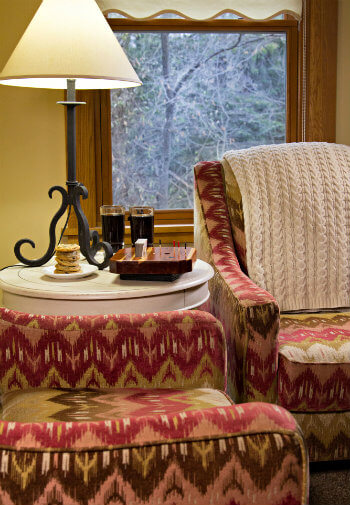 Not only are you treated to a gourmet three-course breakfast to start your day, in the afternoon, there will be a treat waiting for you (almost always something baked). It is the perfect thing to get you through to dinner. As always, Bayfield & Pinehurst Inn are eager to welcome you.
Check out our availability and start planning your trip today. Want to learn about all the other things there are to do in the Bayfield area, click here.