February has arrived. This is the time of year that we get out and take advantage of the unique and glorious opportunities for Winter Adventure among the Apostle Islands and Bayfield.
So today we bundled up, hopped in the car and drove the Ice Road from Bayfield to Madeline Island. Driving on ice is still such a kick. The road is solid, sunny and somewhat mystical. I just never get used to the idea of driving on ice.
Our destination on Madeline Island was Big Bay State Park. There is a family favorite trail at Big Bay that we have trekked for generations. We were confident that this trail would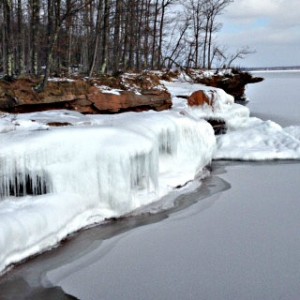 bring us to some beautiful Madeline Island ice formations so typical of the sandstone cliffs in winter. The 7-mile drive on Madeline Island to Big Bay State Park is beautiful, passing snow laden birch trees, seeing a few deer along the way.
At the park, we bundled up and started on the trek. This trail is not terribly long (a loop about 1.5 miles). Much of it is going along shoreline on the North side of the island. And we weren't disappointed. The frozen ice formations on the sandstone outcroppings were beautiful, ethereal and peaceful. This area is so familiar to us in the summer and still brings great joy in the winter.
While the formations are not as dramatic as the Mainland Ice Caves, in many ways this is better. Very few other people this time of year; it is gloriously peaceful woods and there are pl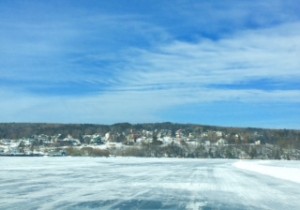 aces to sit down and relax if weather permits. And with the ice road, so easy to get to!
It was a great outing. So once back to the car, we drove back to Bayfield on the Ice Road and enjoyed some hot soup at The Fat Radish. The first of a number of winter adventures for February. Experiencing these adventures provides us with the best information for our guests at Pinehurst Inn Bed & Breakfast.