Lake Superior is the ideal destination for those searching for adventure; whether you want to go fishing for a big catch or scuba diving to see the mysterious shipwrecks, this magnificent lake provides plenty of options for outdoor recreation. One activity you shouldn't skip while you're here is exploring the amazing Lake Superior sea caves. A natural phenomenon like no other, these caves will leave you with an experience in Bayfield, WI, that you'll likely never forget! Learn everything you need to know about the Lake Superior sea caves to help you start planning your trip today.
What You Need to Know about Visiting the Lake Superior Sea Caves
What They Are
What makes these natural formations so unique is they were formed millions of years ago by rivers dropping layers and layers of sand that slowly hardened into sandstone over time. Today, they are beautiful caves that can be explored for an exciting afternoon of adventure in Wisconsin.
When to Visit
The Lake Superior Sea Caves can be accessed both in the summer and in the winter. During the warmer months, the best way to see this attraction is by boat or kayak. An Apostle Islands sea caves tour is highly recommended if you have never been here; these knowledgeable guides will be able to point out significant features, as well as navigate you safely through this area. During the colder months, these caves transform into a magical winter wonderland. When the lake is completely frozen over, you can generally access the Lake Superior sea caves by an ice bridge. Before you head out for your winter visit, however, make sure to always contact the Ice Line first at (715) 779-3397 to check if the conditions are safe.
What to Bring
When arriving by boat, the waters at the Lake Superior Sea Caves can sometimes be rough, so wearing a life jacket or other personal flotation device is encouraged. During the winter, you should wear plenty of layers and bring along ice picks and ski poles. Regardless of the time of year, you should always have your camera handy to snap some shots of this incredible area!
What You'll See
Prepare to be amazed by the splendor of these caves near Bayfield, Wisconsin! In the summer, these caves are a vibrant display of colors, with rocks of red sandstone surrounded by bright green forests and clear blue waters.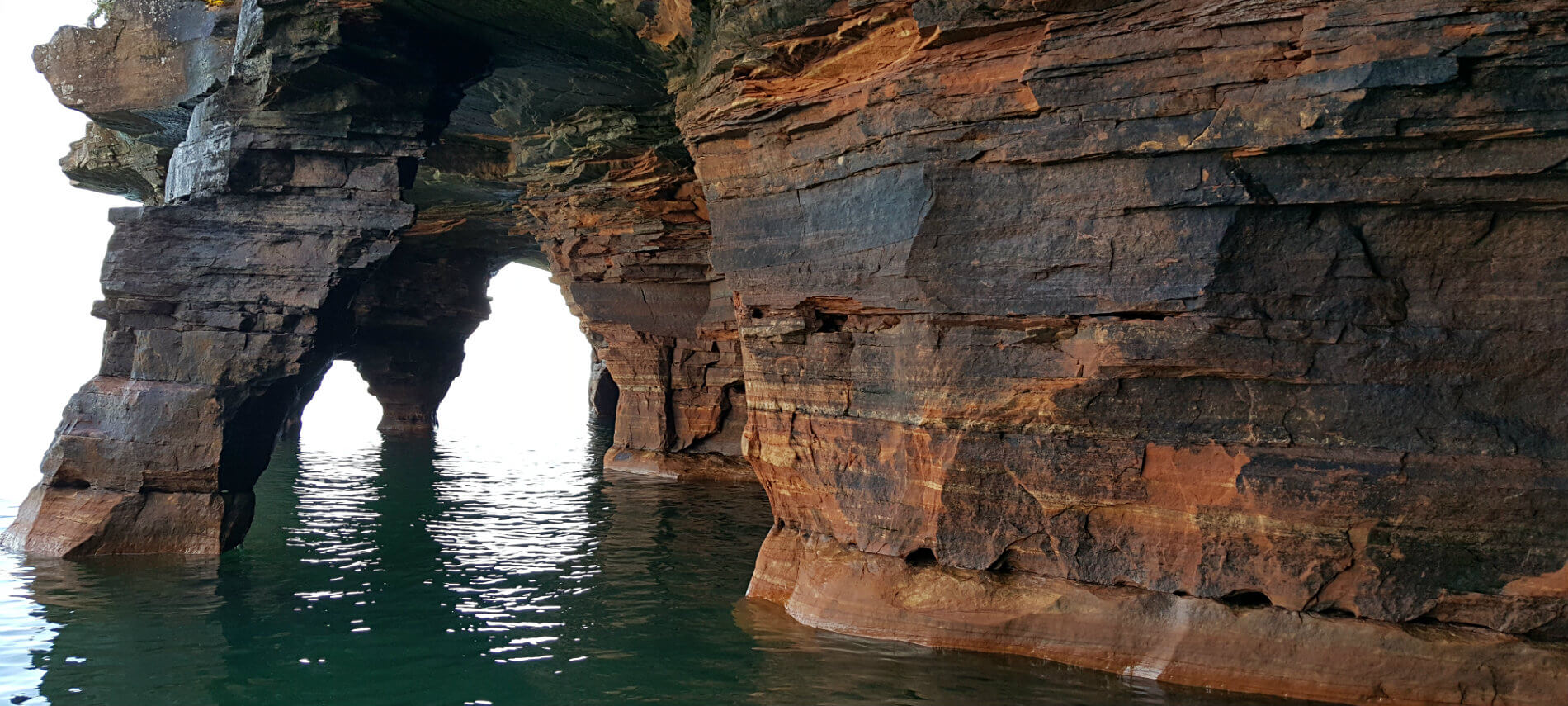 Come Stay with Us at Pinehurst Inn Bed & Breakfast!
While you're in town exploring the Apostle Islands, treat yourself to a stay in the best possible lodging! Pinehurst Inn Bed & Breakfast is a beautiful, eco-friendly bed and breakfast right in the heart of Bayfield, WI, located just one block from the shores of Lake Superior. We offer luxurious rooms with some of the finest, environmentally friendly amenities. After a great night of sleep in our comfortable accommodations, enjoy our hearty, homemade breakfast before setting out on another exciting day seeing Wisconsin's best sights and attractions. You're bound to love relaxing in our peaceful environment, so don't wait another minute; check our availability and book your stay today!
For more things to do in Bayfield, WI, click here.