Bayfield, Wisconsin, is amazing no matter when you visit. Located on the banks of the majestic Lake Superior, there are so many seasonal activities you can enjoy here. During the summer, this paradise of the great outdoors is perfect for kayaking, swimming, boating, hiking, picnicking, and biking. Winter brings a variety of cold-weather activities, like skiing, snowshoeing, and exploring the Apostle Islands ice caves. Another beloved pastime here during winters in Bayfield is traveling the Madeline Island Ice Road. This one-of-a-kind attraction is one not to miss while you're staying here during the colder months. Learn everything there is to know about the Madeline Island Ice Road and make plans to view this phenomenon while you're visiting Bayfield, WI!
Everything You Need to Know about the Madeline Island Ice Road
What Is the Madeline Island Ice Road?
The Madeline Island Ice Road refers to the frozen body of water where the Madeline Island Ferry travels between Bayfield and Madeline Island. During most winters, this path completely freezes over and turns into a completely solid area where people can drive, walk, skate, or ski. There are two miles of ice here for you to enjoy!
When Is the Madeline Ice Road Open?
The Madeline Ice Road opens only when it has reached the ability to hold a sufficient amount of weight. The status of this area is checked frequently by the Bayfield Chamber of Commerce, so stay up-to-date with their Winter Recreation Report so you can receive the latest news on when the Madeline Ice Road will open.
What Are Some Other Activities to Enjoy in Bayfield in the Winter?
Opportunities for winter fun in Bayfield, WI, are endless! Exploring the Apostle Islands ice caves is an adventure like no other. For those seeking a thrill, go dog sledding, skiing, or snowboarding down some of Wisconsin's best slopes. Numerous festivals are held during the winter as well! The Bayfield Winter Festival, a celebration of this exciting season, is one of the most highly-anticipated events of the year! We know you will love this destination during the winter, so start planning your vacation today.
Stay with Us at Pinehurst Inn Bed & Breakfast during Your Next Winter Getaway!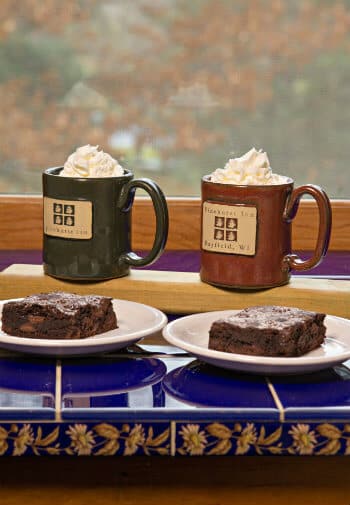 Bayfield, Wisconsin, is the perfect spot for a retreat during the magical winter months! Stay in the warm and inviting Pinehurst Inn Bed and Breakfast in Bayfield, WI, for the finest lodging around. This lovely property features relaxing rooms, all equipped with deluxe, eco-friendly amenities. We also love using local ingredients, so make sure you take time to enjoy our homemade and hearty three-course breakfast first thing in the morning before you take off on your adventures around town! When you return, get ready to enjoy your snack, which is provided each afternoon. You are bound to love staying in our peaceful, heavenly paradise conveniently located one block from Lake Superior, so don't hesitate to check our availability and book your room today!
To learn more about the many things to do in Bayfield, WI, like more places to visit similar to the Madeline Island Ice Road, click here.