PINEHURST INN B&B NAMED IN U.S. NEWS TRAVEL 15 TOP ROMANTIC GETAWAYS IN WISCONSIN
We are honored to be named in the top 15 romantic getaways in Wisconsin by U.S. News Travel. Our comfortable rooms, many with fireplaces and large jetted tubs, offer luxurious linens and toiletries and cozy robes by Robeworks which make our rooms a perfect place to relax, unwind and reconnect with the one you love. The peaceful wooded setting with views of Lake Superior in the fall, winter and spring, and gorgeous gardens beginning late spring through early fall add to the romance.
In the morning we offer a wonderful 3-course breakfast, which typically begins with something baked, followed by a fruit and/or yogurt course, and then conclude with what we like to call the "main event." The main event might be our ever-popular chicken and bacon quiche topped with tomatoes and a parmesan and panko crumble or maybe a guest favorite sweet potato pancakes with homemade pecan butter and fresh whipped cream. We are always experimenting with new recipes to keep things interesting. Check out our recipes to see some of our other breakfast items and have fun playing with these recipes. In the afternoon, a baked treat is provided to our guests and we have even included recipes of some of these treats on our recipes page.
After breakfast, spend the day cuddled up in your room or explore the Bayfield area–it is totally up to you. The awe-inspiring beauty and diverse seasons of Bayfield, Wisconsin provide for some incredible one-of-a-kind outdoor adventures and experiences in and around Lake Superior, such as:
In the winter, snowshoeing, cross-county skiing, fat-tire biking, hiking, and if the weather conditions are just right, exploring the much talked about ice caves.
In the spring, checking out the break up of the ice on Lake Superior, experiencing the rushing water falls as the snow melts and the spring rains begin, and exploring the "fruit loop" for cherry and apple blossoms.
In the summer, kayaking the sea caves, sailing Lake Superior, taking a cruise around the Apostle Island, riding the ferry to and exploring Madeline Island, enjoying a concert under the big tent at Big Top Chautauqua, an outdoor concert in the park by the Lake, or the Bayfield summer concert series.
In the fall, taking in the beautiful fall colors, stopping at one of the orchards and picking (or picking-up) some apples, and enjoying one of the best small town festivals–Bayfield's Apple Festival the first weekend of October.
Do as much or as little as you want, it is your time to rest, relax and reconnect.
And be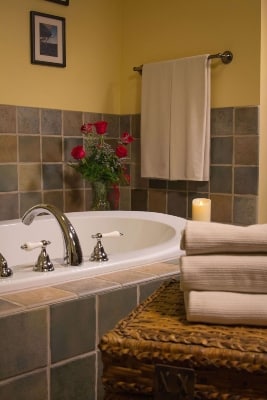 sure to reserve your room at Pinehurst Inn Bed & Breakfast, one of the top 15 most romantic places in Wisconsin. Each of ours rooms is unique, so check them out to find the one that is perfect for your romantic getaway. We look forward to having you stay with us.
Becky & Mike
Pinehurst Inn Bed & Breakfast
83645 State Hwy 13
Bayfield, WI 54814
715-779-3676