Few places in the country offer the beauty and excitement of Northern Wisconsin. It's a perfect place to take your next dream vacation. There's plenty to do and see here in Bayfield and the surrounding area. If you're trying to plan your next big trip, here are the best things to do in northern Wisconsin. Once you come here, we think you'll agree!
Are you looking for fun things to do in northern Wisconsin, check out Pinehurst Inn Bed & Breakfast's things to do in the Bayfield area. This guide will show you everything you need to know, from the best attractions to the most delicious restaurants. Don't wait, your vacation is calling you!
Excellent Things to do in Northern Wisconsin
Visit a Wonderful Farm, Orchard, or Winery
Are you yearning for that rustic charm of country living? There's plenty of farms, orchards and wineries to see here! At the Bayfield Winery and Blue Ox Cider, you'll get to enjoy sampling delicious wine and ciders while enjoying the sights and sounds of the orchard. Alternatively, pick some fresh organic fruit at the Blue Vista Farm. Fresh fruit and a gorgeous view of nearby Lake Superior — sign us up!
Apostle Islands Sea Caves
The Apostle Islands are a wonderful visit no matter the time of year. In the summer, take a boat tour around the islands and marvel at their natural beauty. However, for a real treat, come back in the winter time. With the lake frozen over, you may have the opportunity to see the sea caves (also known as the ice caves) up close an personal! It could be one of the most memorable and special things to do in northern Wisconsin.
Mt. Ashwabay
Towering Mt. Ashwabay watches over the entire area. Venture out to the mountain for a day of hiking trails, birdwatching, and bike riding. Or, come in the wintertime for snowshoeing trails, downhill skiing, tubing, and snowmobiling. One of the most wonderful things about Wisconsin is that it's entertaining no matter the weather or time of year!
Lake Superior Big Top Chautauqua
Another benefit to coming to Mt. Ashwabay in the summer is the Lake Superior Big Top Chautauqua. This popular musical venue offers fantastic shows to make your perfect evening. It also has a great location, overlooking the Lake Superior shoreline. Make sure to come this summer for incredible performances. Big Top is busy putting together another exceptional line-up.
Stay at the Pinehurst Inn Bed & Breakfast for Your Northern Wisconsin Vacation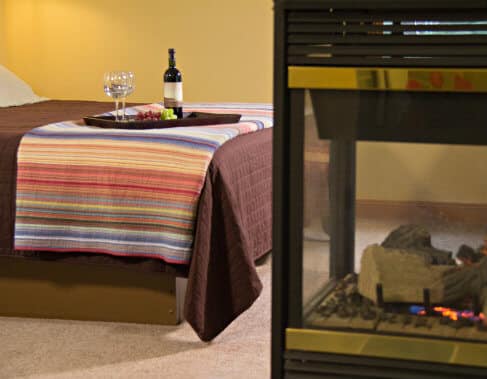 There are so many fun things to do in northern Wisconsin. You need a fantastic place to stay to match all the fun events! That's why you should make a call to the Pinehurst Inn Bed & Breakfast, which is a luxury bed and breakfast located in Bayfield, Wisconsin. Our pristine location means we're close to all the great events and attractions here! Stay in one of our comfortable and relaxing rooms, such as the Brownstone Room. In the mornings, enjoy a delicious breakfast with fresh fruit provided by local farms. There's so much to do and see here, so don't delay and book today!