Winter is a beautiful time of year in Bayfield and we have Three Not To Be Missed Events just around the corner that gives you a chance to play outdoors, and afterwards, why not come home to Pinehurst Inn Bed & Breakfast where you can warm up by the fire, enjoy an afternoon snack (usually fresh baked cookies or brownies) and some hot coffee, tea,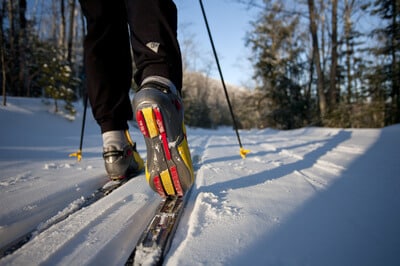 or hot chocolate. Check out these top four winter events in Bayfield, WI:
Book Across the Bay – Happens on a Saturday, in mid-February. Join us this winter for one of the most unique events in the upper Midwest, the annual Book Across the Bay. A 10 kilometer snowshoe, ski or walking journey across frozen Lake Superior held in the evening with 100s of luminaries guiding your way. It is truly a sight to behold. Your journey starts in Ashland and takes you across a portion of the Lake and back, where there is a heated tent for some post-race fun and celebration. What a great way to get outdoors and experience Lake Superior in the winter. Sign up today.
Bike Across the Bay – This event occurs the Sunday following Book Across the Bay. North Coast Cycling Association presents a 10 or 20 kilometer fat-tire bike race on frozen Lake Superior, where you can experience the amazing sights of the brownstone cliffs that the Bayfield area is known for as well as the expansive Lake Superior views. And really, how many people can say they biked or even walked on Lake Superior. Be among the few and register today for this one-of-a-kind experience.
Bayfield Winter Festival – Bayfield throws its annual winter party on the first weekend of March (Fri-Sun), which includes the ever-popular bucket list item, the polar plunge in the largest fresh water lake in the world – Lake Superior, if you're up to the challenge. Other exhilarating experiences include skiing on Mt. Ashwabay and biking across Lake Superior to Madeline Island (assuming of course the Lake is frozen). For more details, click HERE.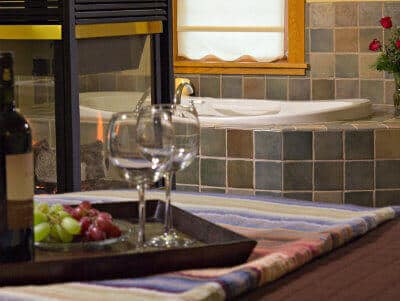 Winter is the perfect time to get away and combine some outdoor fun with some rest and relaxation at Pinehurst Inn Bed & Breakfast. Pinehurst Inn B&B has eight warm and cozy rooms, each with private baths and wonderful amenities, and five of the rooms have fireplaces and large jetted tubs. Find a room that is right for you and start planning your trip today to enjoy one or more of these exciting outdoor adventures or create your own adventure to take advantage of the quiet beauty of northern Wisconsin. We look forward to seeing you in Northern Wisconsin.