Twenty six miles of fun are waiting for you at this year's Memorial Medical Center Whistlestop Marathon! It doesn't matter if you're going for gold or just here to support your friends and family. Ashland, WI, hosts an entire weekend of festivities surrounding the marathon that are sure to make for an incredible experience. If you're looking for some other exciting things to do while you're here, check out Things To Do in Bayfield for a listing of some of Wisconsin's best restaurants, outdoor activities, and historic attractions. We highlight some of our guests' favorite restaurants and activities so you are sure not to miss out on some incredible adventures.
Everything You Need to Know About the Whistlestop Marathon
About Race Weekend
Come for the run, stay for the fun! The Memorial Medical Center Whistlestop Marathon is more than just a race, it's a weekend-long festival that features events, food, music, and so much more. If you aren't quite ready for a full or half marathon, you can still enjoy the beautiful fall foliage as you walk the 10k or the 5k course. Join the 21-year tradition and start training for race day now!
About the Course
The Marathon begins two miles east of Iron River, WI, and finishes in Ashland, WI. Cruise past scenic wetlands, national forests, and dairy farms as you work your way towards victory. The course features a flat, limestone gravel road that is easier on the knees than an asphalt course, making it a perfect place to break your personal record! For a more detailed guide, take a look at the full-course map and the half-course map!
About the Area
Northern Wisconsin sits right on the shore of Lake Superior, a beautiful area filled with an abundance of national parks and some incredible things to do. Just thirty minutes north of Ashland in Bayfield, WI, you can explore Lake Superior's Apostle Islands Ice Caves or take a ferry to Madeline Island. If you're not completely wiped out from the race, there are plenty of amazing adventures left to be had!
How to Register
Without race-day registration, your only chance to sign up for the Marathon is online! The fee is only $90 and includes a free ticket to the Friday night pasta feed, a shuttle from the Bay Area Civic Center to the starting line, and a free t-shirt. To begin your registration, fill out the WhistleStop form and get ready for an incredible weekend!
Where to Stay Near the Whistlestop Marathon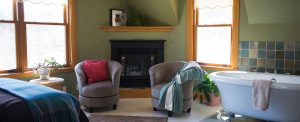 Stay in the heart of Wisconsin's most scenic region at the Pinehurst Inn! Escape from the hustle and bustle of race weekend and get the privacy you need to prepare for your big race. Our premier bed and breakfast offers comfortable accommodations, unparalleled service, and world-class amenities, making it the best lodging option in the area.
For a truly remarkable stay, our Whispering Pines room is second to none. Equipped with whirlpool bathtub, a private fireplace, and a king-size bed, booking this room is the best way to ensure you have all the energy you need to win the race!