With summer winding to a close and colder weather approaching, it's easy to feel like your chance for outdoor exploration will be swept away by the fall breeze. Luckily, there are so many exciting winter activities in Wisconsin that the end of summer also marks the beginning of a whole new set of thrills. Pack a warm coat and your appetite for adventure, below are all of Wisconsin's winter activities that you won't want to miss. While you're planning or in the area, check out Things to Do to find the area's best restaurants, outdoor activities, and attractions.
6 of the Best Winter Activities in Wisconsin
1. Apostle Islands Ice Caves
One of the absolute best things to do in Bayfield in the winter is to explore the Apostle Islands Ice Caves. If the conditions are just right, take the short hike across the frozen surface of Lake Superior and marvel at the stunning ice formations that accent the red sandstone cliffs. Shimmering icicles, frozen waterfalls, and sparkling sheets of ice combine to produce one of the most spectacular sights in all of Wisconsin! Before you visit, make sure to check the safety conditions via the National Park Service.
2. Mt. Ashwabay
Winter sports in Wisconsin are immensely popular! Mt. Ashwabay is the ideal spot for skiing, hiking, snowboarding, snow biking, and snowshoeing. Featuring well-kept trails, 65 acres of skiable terrain, and even a music venue, you'll never run out of things to do here. Don't forget your camera, the breathtaking views of Lake Superior will blow you away!
3. Dog Sledding
Take an exhilarating ride on a dog sled with an expert guide or learn how to drive your very own team! Wolfsong Adventures offers an incredible experience for riders of all ages and skill levels. There are also plenty of chances to join the excitement by watching one of Wisconsin's professional races every winter. If this is a winter activity you'd like to see more of, make plans to attend the Apostle Islands Sled Dog Race in February!
4. The Ice Road
Lake Superior's Ice Road is a must-visit winter vacation spot in Wisconsin! When the weather is cold enough, something amazing happens to the two miles of water that separates Bayfield from Madeline Island. If conditions are safe, you can drive, walk, skate, or ski across the frozen surface of Lake Superior and explore all that Madeline Island has to offer.
5. Winter Festivals in Wisconsin
If the beautiful scenery and outdoor adventure aren't enough to pull you in, maybe one of Wisconsin's seasonal events will be enough to draw your interest. For example, the Bayfield Winter Festival occurs every March and is a great chance to embrace the cold-weather charm of Bayfield, WI. This annual event includes a candlelight walk, a bonfire, a polar plunge into Lake Superior, a 5k run, and much more!
6. Ice Fishing
Ice fishing is more than an activity in Wisconsin; it's a tradition. With an area named the "Land O' Lakes," it makes sense that Wisconsin is home to some of the best spots for ice fishing in the entire country. Near the Ashland area, the Chequamegon Bay is a favorite place for many locals! Here you can catch all kinds of fish, including bass, whitefish, salmon, perch, and sturgeon. If you're visiting Wisconsin this winter, don't miss out on this one-of-kind experience.
The Perfect Place to Stay Warm this Winter!
Wherever your winter adventures take you in Wisconsin, the Pinehurst Inn has the best lodging options for your trip. Our quaint bed and breakfast is situated in the heart of Bayfield with convenient access to all of Wisconsin's most exciting winter activities. Indulge in our comfortable accommodations, first-rate amenities, and superb customer service on your next vacation!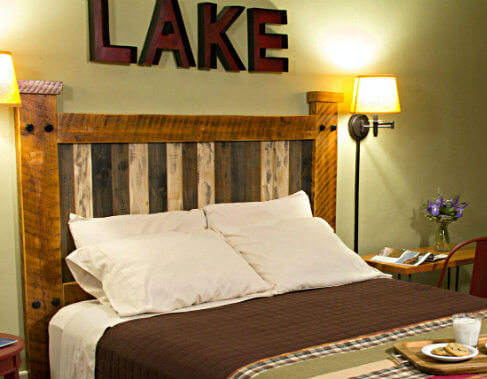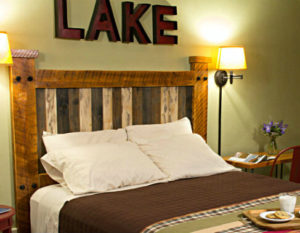 For an experience that you'll never forget, book a stay in our Elisha's Room. This room in the Main House is equipped with a queen bed, a deep clawfoot tub, and sunrise-facing window that offers dazzling views of the winter landscape. Winter is the perfect time to visit Wisconsin, book your stay now!