Almost everyone craves a vacation filled with thrilling adventure and stunning sights! If fun and excitement is what you desire, you should plan your next trip to the charming town of Bayfield, Wisconsin. Not only will you find fantastic restaurants and intriguing attractions here, but its convenient location on the banks of Lake Superior and the Apostle Islands National Lakeshore provides infinite opportunities for extraordinary outdoor recreation unlike any other. Apostle Islands kayaking is a favorite activity of both visitors and locals alike; this exciting activity gives outdoorsmen the chance to see this phenomenal area from a completely different perspective. Learn all about why Apostle Islands kayaking is so popular here and start making your plans to try it out today!
3 Reasons Why You'll Love Apostle Islands Kayaking
1. Spectacular Scenery
The Apostle Islands are some of the most beautiful and mysterious wonders of the world. An archipelago that contains a total of 22 distinct islands, this area is full of countless spots for exploring. You can kayak to different island to see their own unique attributes; each one contains incredible features, like beaches, forests, and more. Scuba divers and snorkelers are in for a treat here; there are several eerie underwater shipwrecks that lie beneath these waters. However, one of the most beloved treasures within this region is the Apostle Islands sea caves. These breathtaking natural phenomena are ideal for exploring by kayak; filled with towering arches, winding tunnels, and colorful rocks, these caves set the scene for an experience like none other.
2. Wonderful Weather
The lovely weather of Bayfield, Wisconsin, creates the perfect setting for an enjoyable day in the great outdoors! Summer temperatures usually hover around highs in the mid-70s to provide pleasant afternoons of kayaking that are neither too hot nor too cold. The water of Lake Superior is crisp and cool, rarely rising above the average temperature of 60 degrees Fahrenheit.
3. Abundant Wildlife
The magnificent Lake Superior draws all kinds of wildlife, especially birds! Over 300 species of birds are native to Northern Wisconsin. Numerous types of waterfowl, in particular, have chosen to make this area their home due to all the resources it provides. Cast your eyes to the skies and you might catch a glimpse of a majestic bald eagle; they are often seen soaring around this region. Beavers also frequently make their homes on this shore, while otters love splashing around in the lake. Other inhabitants of this area include deer, coyote, red fox, and minks.
Come Stay with Us at Pinehurst Inn Bed & Breakfast!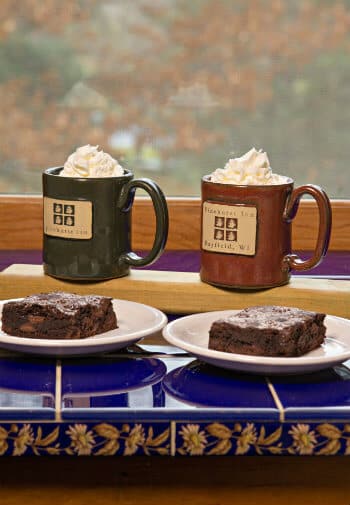 Complete your adventure on Lake Superior by staying in the most luxurious lodging! Pinehurst Inn Bed & Breakfast provides deluxe accommodations specializing in providing each and every guest with comfortable and inviting furnishings and amenities. Enjoy our hearty three-course breakfast made with many locally sourced ingredients before heading out of the day of adventure, and return home to the inn and enjoy a complimentary afternoon snack. Don't wait another minute to start preparing for your dream vacation; check our availability online right now to begin planning the trip of a lifetime!
To learn more about the many things to do in Bayfield, WI, click here.