Bayfield offers a host of fun, family activities for all ages. But sometimes, you just need to spend time away from the kids and with that special someone. For those couples looking to get away from it all, Bayfield has plenty of romantic and relaxing activities for you as well! Book a stay at the Pinehurst Inn Bed & Breakfast and retire to an intimate and luxurious room after a day of sightseeing and quality time. For those couples looking to escape the hectic schedule of daily life and focus on the love for their partner, here are the most romantic getaways in Wisconsin.
The Best Romantic Getaways in Wisconsin for Couples
Orchards and Berry Picking
Fresh seasonal fruit not only offers you and your loved one a healthy snack, but also a fun and cozy activity. You can spend hours talking, reminiscing, and rediscovering your love for each other as you wander through Wisconsin's naturally beautiful orchards and berry fields. Come in the summer to pick juicy strawberries and succulent blueberries. Or, wait to come in the fall where you can pick crisp, sweet apples. Many of the orchards also offer hand-crafted dessert made with the same fruit you've been picking for yourself. A sweet treat to end a perfect day!
Lake Superior Boat Tour
Majestic Lake Superior stands still and silent, awaiting any who would come explore her waters. There are numerous tours all around Wisconsin offering a scenic view of the lake and its many wonders. For example, here in Bayfield you'll find many great tours of the beautiful Apostle Islands. You and your partner will love the fresh air on the open water, and of course the memories you make will last a lifetime!
Hiking and Biking
For the couples who love being active, Wisconsin offers you a lot of great activities as well! There are hundreds of hiking trails all around the state. All of them offer pristine views of a wilderness hardly touched by man. The state works hard to preserve its natural beauty, and many of the trails are protected by teams of volunteers. This means you can be sure that your experience is safe as well as exhilarating. Here in Bayfield, you'll find numerous trails, including those on Mt. Ashwabay, the Salmo Trail leading to Lake Superior, and the Nourse Sugarbush, as well as Big Bay State Park on Madeline Island.
Spend Your Next Romantic Getaway at the Pinehurst Inn Bed & Breakfast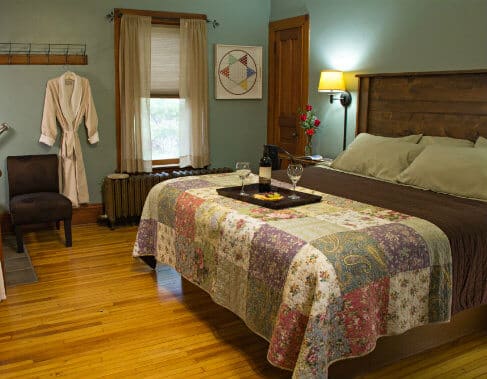 Of course, if you're heading out on any of these romantic getaways in Wisconsin, you'll need a cozy and intimate place to retire to at the end of the day. And that's why you should book a stay at the Pinehurst Inn Bed & Breakfast, a luxury Bed and Breakfast in Bayfield, WI, featuring eco-friendly amenities, welcoming innkeepers, and beautiful surroundings. You will love the warn and inviting spaces available here, such as Holly's Room. And we always offer a delicious hot breakfast in the morning, as well as an afternoon snack for your enjoyment. You're bound to love our outstanding and exquisite Inn, so don't delay and book today!