Whether you're looking for a way to celebrate a birthday or anniversary, or you just want to spend some quality time with your special someone, traveling is always a wonderful idea! Take off with your sweetheart and enjoy some time in Duluth, MN. Romantic weekend getaways in this area are always a great idea; Duluth contains some wonderful attractions and activities that the two of you will love. Better yet, Duluth, MN, is also not that far from our romantic bed and breakfast, the Pinehurst Inn Bed & Breakfast, in Bayfield, Wisconsin! Discover all the romantic things to do in Duluth, MN, then start planning the couple's getaway of your dreams today.
Looking for more romantic things to do in Duluth, MN, or any other great ways to spend your Wisconsin vacation? Then click here to find tips on what to see, where to go, and what to eat during your stay in Northern Wisconsin.
Some of the Most Romantic Things to Do in Duluth, MN
Hop Aboard the North Shore Scenic Railroad
A train ride is a great way to see the beautiful landscape at an easy, relaxed pace. Snuggle up together in a train car and watch the gorgeous scenery roll by! A ride on the North Shore Scenic Railroad in Duluth, MN, is the perfect activity for any couple. They also host all kinds of fun themed events that the two of you will absolutely love. Check their schedule today!
Have an Intimate Meal in a Romantic Restaurant
No vacation is complete without trying some of the local cuisine! There are numerous romantic restaurants in Duluth, MN, that offer outstanding dining. Start with Bellisio's Italian Restaurant and Wine Bar. What's more romantic than Italian dining? Enjoy some of the most authentic Italian cuisine here while sipping on a perfectly paired glass of wine in a romantic environment at Bellisio's. Next, try out Black Water Lounge. If you want a night out on the town, this is the spot for you! Get all dolled up and visit this elegant, sophisticated martini lounge. They serve delicious food like sushi, flatbreads, and other small plates. A soothing jazz band will play as you eat! Finally, see the New Scenic Cafe. For a more casual, yet intimate, experience, the New Scenic Cafe is wonderful. This cozy spot overlooks the lake and serves fresh, tasty American cuisine and has an excellent beer and wine list. It's surrounded by gorgeous gardens as well, helping the cafe live up to its name!
Visit the Great Lakes Aquarium in Duluth, MN
Another great option on the list of Duluth date ideas is to visit the Great Lakes Aquarium in Duluth, MN, a beloved attraction of all ages! You'll love to explore this attractive establishment filled with exhibits of colorful fish and much more. They also host a wide variety of events which are always a fun experience for couples to attend together. Don't miss seeing a playful otter or slithering snake- make plans to visit today!
Drive to Bayfield, WI, for the Most Romantic Accommodations!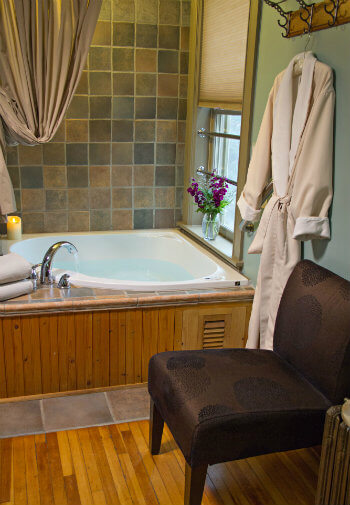 A visit to one of the best bed and breakfast in Wisconsin is the perfect way to complete your wonderful trip together. Come stay with us at Pinehurst Inn Bed and Breakfast, where countless couples choose to spend their romantic getaways in Wisconsin! Located right in the heart of everything the Bayfield WI, area has to offer, Pinehurst Inn Bed and Breakfast offers everything needed for a vacation filled with rest and relaxation. Our gorgeous rooms are all equipped with the finest amenities, like a whirlpool tub, fireplace, and cozy bathrobes. Don't miss out on what we have for you; check our availability and start planning your trip today!