Summer is nice, but let's be honest: you're more of a winter kind of person. There's nothing which excites you more than pictures of peaceful, quiet snowfalls, a mug of hot chocolate by the cozy fireplace, and cool air against your face as you race down the hill on your sled. Fortunately, you're not alone. We love winter as well! We especially love winter here in beautiful Wisconsin. There are plenty of winter activities in Wisconsin, no matter where you are. Of course, we prefer all the great things to do here in Bayfield! We've written about a few of them before, in fact! So if you're looking to spend your winter days with us, here are some of the best winter activities in Wisconsin.
The Best Winter Activities in Wisconsin
Sledding, Tubing and Skiing!
Of course we can't have a list like this and not include everyone's favorite winter sports! There are slopes all over the state you can check out, and all of them offer thrills as well as gorgeous winter scenery. Here in Bayfield, of course, we have Mt. Ashwabay. Be sure and check out the special tubing slopes. We hear they're amazing!
Snowshoe, Cross-Country Ski, Hike or Fat-Tire Bike Through Nature
During the summer, Wisconsin offers a nearly endless amount of hiking and walking trails, as well as biking trails. During the winter, some of these same trails offer the chance to explore the winter scenery on snowshoes, cross-country skis, or fat-tire bikes! Mt. Ashwabay has some of the best the best cross-country ski and snowshoe trails around, not to mention fat tire biking in the snow.
The Lake Superior Sea Caves
Wintertime is really the best time to visit the Lake Superior sea caves. When the ice is thick enough to walk on (please be safe and check beforehand), it allows you to walk or snowshoe up to the caves for a close look. These are the kinds of experiences you just can't get from the deck of a boat!
Ice Fishing!
There's lots of fish available all year round on Lake Superior. As expected, some of them can only be found in the cold wintertime. Grab a mug of hot cider, bundle up and get ready to reel them in!
Ice Skating and Hockey!
No rinks required. Out here, we like to skate beneath the winter afternoon sky. Lace up those skates, grab that puck and sticks, and get ready for a breathlessly fun time skating outdoors in beautiful Wisconsin. There's plenty of places to do it!
Stay at the Pinehurst Inn Bed & Breakfast to Discover a Real Winter Wonderland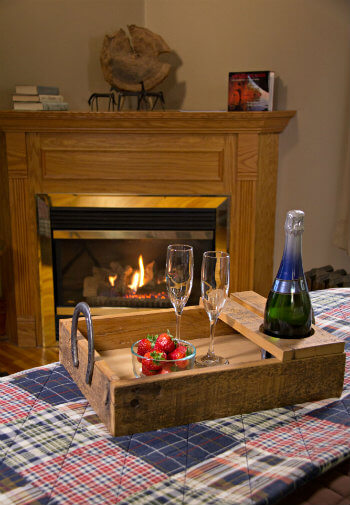 You may hear those sleigh bells ringing when you and your loved one book a stay at the Pinehurst Inn Bed & Breakfast, a luxury bed and breakfast in Bayfield, WI, featuring eco-friendly amenities, cheery and helpful innkeepers, and comfortable relaxing rooms. It's not only a picturesque B&B, it's also conveniently close to all sorts of great Lake Superior attractions, including the Northern Great Lakes Visitor Center! You will love the charming and comfortable spaces available here, such as Salmo Room. And we always offer a delicious hot breakfast in the morning, incorporating locally sourced ingredients. You're bound to love our outstanding and exquisite Inn, so don't delay and book today!