It's time to get serious about planning your next ski trip! Fortunately, when you're looking for the best skiing in Wisconsin, you'll never run out of options. From lavish ski resorts to exciting day trips, there is a Wisconsin ski destination to fit the needs of skiers and snowboarders of any skill level. While you're here, make sure to take a look at our free Vacation Guide. In it, you'll find all of Wisconsin's best restaurants, outdoor activities, and historic attractions. It's never too early to start planning the winter getaway of your dreams!
Where to Find the Best Skiing in Wisconsin
Cascade Mountain
Cascade Mountain is one of the best day-trip destinations in the Midwest. Only three hours from Chicago, two from Milwaukee, and less than 30 minutes from Madison, no Wisconsin ski resort is more accessible. Cascade also has a list of impressive features to back up its great location. The mountain is equipped with four terrain parks, 12 lifts, and 45 fully lit trails for day and night skiing. Check out the trail map and pick up your lift tickets today!
Granite Peak Ski Area
Providing some of the best skiing in Wisconsin, Granite Peak Ski Area is perfect for your next trip. With over 70 runs, tree-skiing glades, terrain parks, and plenty of high-speed lifts, Granite peak is the largest and most impressive ski resort in the state. If you're serious about snowboarding or skiing, put Granite Peak on your list of must-visit resorts. Plan your trip to Central Wisconsin and get your lift tickets now. The ski season is set to open in November!
Mt. Ashwabay
Another excellent day trip destination is Mt. Ashwabay. It's home to incredible activities throughout the year. If you're planning a visit to Northern Wisconsin this winter, stop by this ski hill for a day of fun. You don't have to be an expert snowboarder or skier to enjoy your time here; the mountain has excellent tubing, cross-country skiing, and fat-tire biking. You can even check out fantastic events and performances at Big Top Chautauqua. The ski season at Mt. Ashwabay begins in November as well, so it's time to start planning your trip!
The Best Lodging in Wisconsin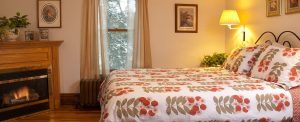 In the heart of Bayfield, WI, Pinehurst Inn offers the ideal place to rest after a day on the slopes. Our quaint bed and breakfast is seconds from the beautiful shores of Lake Superior and just minutes from some of the best skiing in Wisconsin at Mt. Ashwabay. Staying with us is the only way to guarantee comfortable accommodations, luxurious amenities, and unparalleled customer service.
For a truly relaxing stay, check into our Salmo Room. This room comes equipped with a queen-size bed, beautiful hardwood floors, a fireplace, and a private deck. There's a reason this room is a favorite among our guests! Experience the beauty of Bayfield for yourself and start planning your trip today with our Fall Special rates!